MEET LAST YEAR'S COMPETITORS: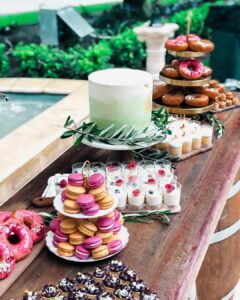 The Cold Stuff:Mix-ins Rolled Ice Cream!
The future is ice cream, right?! Rolled ice cream is unique because it allows you to easily customize your flavors since you can add them right to the liquid ice cream! Delicious!
The Good-for-You Food: Conscious Comforts
Offering a wide variety of menu items that are accessible to all walks of life, our items are 100% vegan – free from dairy, meat and eggs. We can accommodate those with soy and gluten sensitivities, as well. Food made here is to nourish our community with the freshest ingredients.
The Chocolate Lovers: Kirbkakes Bakery & Pastry
How many people do you know that would go crazy for chocolate cake? Send them our way because they won't want to miss out on Kirbkakes Bakery!
The Undippably Edible: Black Bottom Biscotti
Baked to be Undippably Edible, our made from scratch biscotti is crisp, not break-a-tooth hard, so you choose whether to dip or not to dip. From the traditional Almond to our signature Salted Cinnamel, you'll find our biscotti to be full of flavor!
The Cookie-Donut: OCookieOs
Here to crush the gluten-free, high protein stereotype, by offering a quality product, that doesn't taste like anything was ever missing! Yummy!
The Campfire in One Bite: Buttered Marshmallow
Inspired by an autumn campfire, cartwheels, and a long-time dream…
The Buttered Marshmallow was roasted! Crisp and soft and melty and buttery and absolutely delicious!
The Handmade Happiness: Baked by Sweet Melissa
It's not just her name that's sweet…
Melissa's macarons deliver perfection with every single bite!
And to Round Up the Lineup: Catering Creations!
Amazing culinary experience so that you can be a guest at your own event. Our services include full-service weddings, cocktail parties, corporate functions, plated & served dinners, and, of course, amazing desserts! Above all else, the food will always be delicious!
YOUR EVENT TICKET INCLUDES DESSERT COMPETITION, SILENT AUCTION, WINE PULL, MUG PULL, RAFFLE and LOADS OF LAUGHTER.
And don't worry, the competition is all sweets, but you'll also receive plenty of savory items, adult and non-alcoholic beverages to round out your dining experience!